From the stables of a young girl rising from the ashes of worry.
I was strolling back home from a pharmacy. I had gone to buy high blood pressure drugs for a close family member when it hit me that worrying is one of the most unprofitable use of time ever. It don't solve no problem. It just continues to drag us in a cycle of unnecessary feels, if you know what I mean. Worry eventually steals our money, wastes our time, and what is worse? You continue the cycle.
Worry is nicknamed uneasiness, anxiety, apprehension, and all that negative vibes that describe fear. It is really an unproductive state of being induced by fear of an imagined or a real occurrence.
We worry when we perceive that something may happen that will hurt us, our loved ones, or those things we care about.
It is one instrument that the enemy uses to blindfold us from our very many blessings. We are left focusing on what is not working, what we don't have, what we don't have enough of, that thing we dread and every ugly thing that is happening to us.
Really, there will never be a dearth of anxiety causing stimuli. Things will happen that ordinarily warrants unhappiness, anxiety, fear and worry. But it is at this point that we are faced with the decision to either go down under by letting worry live rent free in our beings, or to hang the situation totally on God's neck.
Dr. Roy R. Grinker, one of the medical directors at Michael Reese Hospital explained that worry places more stress on the human heart than any other stimulus including physical exercise and fatigue!
Another doctor, Dr. S.I. Miller, explained in his book "None of These Diseases" that worry produces emotional stress and this accounts for two-third or more of all physical illnesses today.
He rounded up by saying many physical illnesses are caused by a number of disease causing emotions like envy, ambition, rage, frustration, resentment, hatred, self-centeredness, anger, and fear etc.
Many humans have sent themselves to early graves and ended up with terminal diseases because they refused to confront that ancient thief called worry. If you must know, worry is the major emotional cause of high blood pressure, heart diseases, kidney diseases, goiter, arthritis, headaches, strokes and the likes.
No wonder Jesus said we should not worry. I mean, that thief will not add one cubit to our height nor would it add one inch to our size.
And let me tell you, if you will use just 60 seconds to tell God how you feel and exactly what you want, His peace will keep your heart.
I'd demonstrate this to you with a popular person's story.
I was reading the book of the Acts of Jesus' apostles. Precisely chapter 12. Now, King Herod ordered that poor Peter, one of Jesus' big 12, should be imprisoned. This was the same Herod that got James killed. James was John's brother, an apostle of Jesus.
For more understanding, this is a background to the foregoing:
Herod had ordered that James should be sliced with a sword. The church had not fully recovered from James' loss when Herod struck again. He got Peter imprisoned and every one had to lash out in soulful prayers.
You can imagine that this can send the bravest of men to an unending panic attack. But guess what, when God eventually sent an angel to rescue Peter, he was caught sleeping!
Sleeping!
Peter was not always someone that had that kinda peace. Nope. Remember when he denied Jesus three times? This man had been with Jesus for a number of years and had witnessed so many of Jesus' miracles in real time.
He knew who Jesus was and what He represented but because of fear of what people will do, he denied Jesus blatantly when a number of people matched him to Jesus.
I imagine that he was like: how dare you say I know that man! Never met him! Never saw him! But when the spirit of the living God filled him up; this man slept through what would have sent the bravest man to a chronic panic attack.
God knew that a number of perils will come when he inspired Sir Paul to write that we should be anxious for nothing, but in everything, by prayers and supplications with thanksgiving, let our requests be made known to Him (Philippians 4:6).
This literally means- hang all your anxiety causing stimuli on God's neck via prayers and supplications, with thanks.
The next verse tells us what will happen to us when we do this- the peace of God which is beyond our wildest dreams (which surpasses all understanding, will guard our hearts and minds through CHRIST JESUS). So like a warm duvet, God's peace will keep our hearts.
You wanna know why God is capable of handling our worries? He is the freaking ALPHA and OMEGA. He's the beginning and the end. He created time itself, so he knows what's up! He knows what's gonna happen. Nothing shifts his throne. He is never surprised because He knows what's up. Trust me, he can handle it.
Just because I over share, here are some tips I am using to kiss worry good bye:
Understand that worry is a sin. It is the direct opposite of faith. Unfortunately, you cannot please God without faith. Do you know what you do when you worry? It is as though you are saying:
God you can't handle this, let me
mool over this. I'd see if I can figure out a solution all by myself.
Remember that whatever is not inspired by faith is actually sin. So do what you should normally do to sin. Toss it in the trash.
Pray about what is causing you to worry. It is a wise man that goes to the throne first before he goes to the phone. Trust me on this one, God listens. God hears us. He desires good things for us. He does not like bad things happening to us. He is jealous for us. Tell God exactly what you want. It is your heart desires that you should say plainly. Remember that God already knows what your heart desires were before you even started praying.
Understand that God's will will be done. Yes, he wants you to honestly state what you want, but this does not mean that just anything will be given to you exactly the way you want it, but God's peace will keep your heart.
Funny thing is that regardless of whether we worry or not, God's will will be done.
Hang it on God's neck.
Bonus tip: If you realize that you are a chronic worrier. I want you to know that God is closer to you than you can imagine. But here are some bonus tips that may be of help: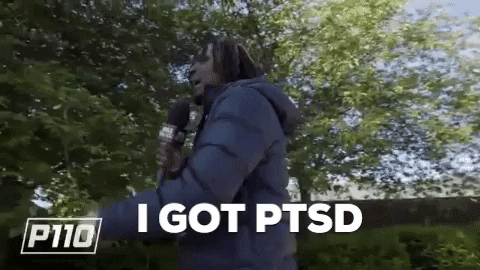 Confess your worry as sin before God.
Ask for God's help to stop worrying, through Christ Jesus.
You may also seek professional help. Talk to a therapist. Nothing to be ashamed of. If I must say, talk to a Christian therapist.